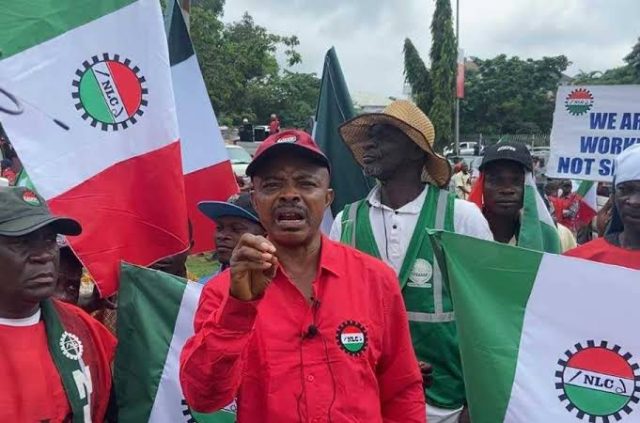 …Says impact worse than subsidy pains
A coalition of 100 civil rights groups has accused the Nigeria Labour Congress (NLC) of conniving with the opposition to inflict pain on Nigerians.
The groups, under the aegis of Project Nigeria, consisting of CSOs abroad and locally, said the impact of the industrial action is worse than the fuel subsidy removal.
Recall that the NLC today began a two-day strike over the end of the subsidy regime, warning of a "total shutdown" after 14 days.
In some states, labour leaders ruled out the possibility of joining the strike while some governors also moved to avert impending economic collapse by either arranging meetings with Labour leaders or restating their plans to ameliorate the pains caused by subsidy removal.
Similarly, the Trade Union Congress distanced itself from the strike action which it said may "cause civil unrest and further degenerate into unprecedented wrath in the nation."
In a statement signed, by Dr. Kolawole Akinmosu, the coalition said the NLC is apparently against the Federal Government and the country at large.
Describing the NLC leaders as greedy, prejudiced, and evil, Akinmosu said they are funded by the opposition to cause chaos.
Dr Akinmosu said the NLC already had a well-orchestrated plan to create panic leading to the presidential election tribunal judgment fixed for September 6.
"As critical stakeholders in the Nigeria project, we are compelled to react to the two-day warning strike by the NLC. This is not only unnecessary, it is wicked and not in the best interest of the nation," he said.
"The NLC has lost its way. We are not surprised though. Its leadership displayed its partisan nature by endorsing a particular presidential candidate in the last elections.
"With the tribunal set to deliver judgment tomorrow, they have begun another phase of their well-orchestrated plan to cause civil unrest. Their motive is to create panic and hardship.
"It is common knowledge that strike is the last resort after a failed series of negotiations. However, the Federal Government has shown a willingness to dialogue. The President has also made certain efforts to cushion the sufferings of Nigerians.
"That the TUC even withdrew from this show of shame shows that the intent isn't right. The TUC even confirmed that the FG yielded to some of their requests, among which was to increase the sum to states to fission the effect of the hardship.
"We, therefore, are convinced that the NLC is conniving with the opposition to wreak havoc on the economy and intentionally create tension in the nation. This is the sad reality.
"We wish to use this medium to call on well-meaning Nigerians to support the Federal Government and shun acts capable of leading to anarchy. We are by this notice, urging security agents, to be on alert for the next phase of the planned anti-Nigeria agenda".