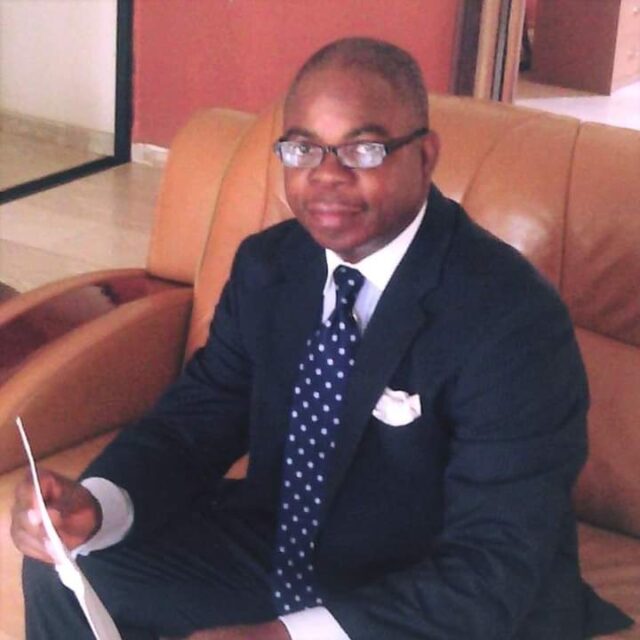 By:Alex Ehimhantie Aidaghese
Esan is More than Constituency Projects. Federal presence is abysmally lacking in Edo Central Senatorial District. We need Federal Government Projects. Not Constituency Projects. We deserve better. Senator Clifford Ordia has done his best, but his best is not good enough for my beloved people of Esanland. If he couldn't do it in eight years, he cannot do it in four more years. It's time we make a change. Therefore, he has to go for a new start to unfold.
The Esan tribe of Chief Anthony Enahoro, of Great Anenih is not reputed for back-benchers. In the past twenty-four years, we have had Senators who did not rise to the position of relevance at the National Assembly – position of relevance defined by the benefits that accrued to your people. It doesn't take twelve years to become the President of the Senate or the Speaker of the House of Representatives. It's who you are and your ability to rise up to the demands of the legislative process.
How many Federal Government projects or institutions can we boast of in Edo Central Senatorial District in the past twenty-four years? Where are the completed water projects? What about irrigation, the dams? Where are the Military Institutions? Where is the Federal Security apparatus to ensure our safety and security throughout the regions? We have none.
If they couldn't do it in twenty-four years, it's futile to trust them with another four years. They slumber on their rights while a one time flourishing Ewu Flour Mills went under, before the carcass was acquired by Pastor Chris Oyakhilomen.
Right now, the continuous existence of Ambrose Alli University, Ekpoma as one institution hangs precariously in uncertainties. The threat of its being dismantled by the present administration in Edo State should not be taken with a grain of salt. The fact that no pronouncement on the record has emerged from any of our members at the National Assembly condemning the plan of the Governor of Edo State, exemplifies the morbid disconnect between them and the reality on the ground in Edo Central Senatorial District. AAU is a landmark. Whoever fights AAU is fighting every man and woman in the entire Esanland. It will not happen under my watch as a Senator representing Edo Central Senatorial District. Period.
The issue here goes beyond their inability to perform. It is whether they are ever conscious of the enormity of the power and privileges they packed with the mandate to serve at the National Assembly. Ignorance is a disease. The lack of wisdom to discern the existence of your inadequacies and how to deal with it is the worst of an anomaly as a peoples' rep. And that's the harbinger of the culture of low expectations besetting Esan's development.
If Mr. Clifford Ordia and those before him, couldn't ascend to the "Big Positions" in eight years, and lacked the capacity to influence Federal presence to Edo Central Senatorial District in twenty four years, Esan voters cannot afford to trust them again for another four years.
In my first two years in the Senate, about half of the entire Esan tribal region will be connected with pipe-borne water. And in four years, the entire Esan region will be enjoying an uninterrupted stream of clean water.
I am not promising miracles; with the right information at the disposal of your members of the National Assembly, coupled with diligent management and oversight in place, there's nothing the Federal Government cannot do for your community.
In recent times, there is a void hamstringing direct Federal engagement in the development of Esanland. It is about communication and information mismanagement. I want to fill that void. And I have what it takes to break the jinx and fill the void.
How many times have you seen your Senator driving around your community or conducting a Town Hall Meeting? Not in Edo Central Senatorial District. If you accept the troubling disconnect at the federal level as evil that must be condemned, you must also condemned the unhinged disconnect at the Senatorial District.
The ability to fathom the existence of a void (disconnect), and how to go about eliminating it is what makes the difference. That ability is what differentiates me from the other candidates as well as those you have been clapping after before now. And that's what I'm bringing to the table. You are a servant of the people, not the Lord of the Manor.
How many times have you seen or heard of Esan members at the National Assembly, as a team, seeking an audience with the President or the decision takers at the Budget Office to draw their attention to the lack of Federal presence in Esanland or lobby for opportunities for the region? Nothing on the record. I will do things differently, believing that information is power. And that's what I bring to the table.
The Minister of Agriculture or Water Resources, for instance, doesn't know where the Odu River is in the Esan region. I know. In a similar vein, the President of the Federal Republic of Nigeria is not aware of the existence of the Odu River Dam in Ewohimi and its capacity to generate water ceaselessly for more than half of the Esan communities. But I do.
As your Senator, it is my responsibility to bring this information and information about similar untapped resources all over Esanland to the attention of the President and his team, as well as the President of the Senate and the appropriate Ministers and Ministries for appropriate action.
Please, don't let them tell you it can't be done. Don't tell me I can't do it. Surely, it can be done. Surely, I can do it. That's what governance is about. It's happening in other villages and towns all over Nigeria. Why not in Esanland? And that is where I will make a difference – meeting and consultation.
I am not an accidental public servant. And I do not seek your mandate on someone else's goodwill or because I have the right to contest. I am in the race because I am prepared. And I'm going to do things differently.
This is the time for a new start. And I represent that new start, the present, and the future. My name is Alex Ehimhantie Aidaghese. I am your son. And I seek your support to serve you selflessly as a Senator at the Senate of the Federal Republic of Nigeria. Trust me, and I will bring development to our beloved Esanland.
In addition to my degree degree in Energy and Environmental Law and Policy, I study Administration and Management at a graduate level at a top University in America. And I am very conversant with the nuts and bolts of public policy and how to apply them to the facts on the ground and make government work best for my Esan people.
Today, the demand for Decentralization of Power and Restructuring is at the front burner of the Nigerian leadership struggle, and I have written extensively on the subject. So, as we match towards the actualization of True Federalism, Esan people cannot afford to be represented at those debates by backbenchers and mere spectators who cannot make an informed distinction between Unitary, Federal, and Confederal systems of government. We need a strong candidate, an articulate voice, astute in Public Policy as well as Constitutional Law to be the eyes and ears of Esanland at the upper chamber.
In my private capacity, thousands of miles outside of Abuja, I have made substantial impacts in nurturing our constitutional democracy. When the demand for the removal of the Immunity clause (Section 308 of the 1999 Constitution of the Federal Republic of Nigeria, as amended) reached its crescendo, my essay made the most impact in its retention by the Constitutional Review Committee. Though I have not been in government, I have been involved through my essays and writings.
I do not have a godfather, God is my God Father. And I am accountable to no one but you – the people of Esanland. I won't be going to Abuja alone. And I won't surround myself with my town folks. I am going to assemble a formidable team, with vast knowledge of our legislative process and government in general, from all the five local government councils of Esanland to accompany me to Abuja. On a daily basis, we will meet and strategize on how to ensure that Esan is not left out in the deliberation of what becomes of Nigeria and in the management and disbursement of our national wealth.
Politically, I am liberal and I espouse Chief Obafemi Awolowo's populist philosophy – of government being about service to the people and for the people. I will strive to sponsor and support motions and bills that are poverty alleviation-focused, geared towards sustainable development, and have positive impact on the overall wellbeing of my people.
Above all, I am not going to be a Senator of Agbazilo or a Senator of Okpebho, but a Senator of the men and women of every community in Edo Central Senatorial District.
This struggle, this mandate that I seek transcends tribes and political affiliation. I humbly ask that you Judge me based on what I'm bringing to the table, and not by the name of my community. If you consider the marginalization at Abuja and in Edo State capital abhorrent and condemnable, you should also consider the age-old marginalization in Esanland abhorrent and condemnable.
My dear people of Esanland, we are one big family. Let's support the candidate with bold visions and an innate understanding of leadership as well as the working of government. And I am that candidate.
All the senators before now are well-respected gentlemen who, unfortunately, are not known to ever articulate bold visions, bills, or motions that garner bipartisan support for the benefit of our Esan people. They offered you nothing other than a little block of classrooms and community health centers here and there without Doctors. We are better than that.
Esan deserves more than boreholes and classroom blocks. Esan needs a Federal presence. Period. I will bring Abuja to Esanland. That's why I seek your vote and your mandate. And that's why I am going to Abuja. Senator Ordia has no idea of what federal presence is about or how to go about getting them. If he couldn't do it in eight years, he cannot do it in another four years. If they couldn't do it in twenty-four years, they won't be able to do it in another four years.
It's time we send a trusted, selfless, articulate, credible, and reliable Esan son to the National Assembly – a son who will not be lost in the crowd or short of visions. And I am that your son, your brother, your cousin, your uncle, your nephew, and your friend.
Finally, in the memory of those who have died or made enormous sacrifices in the struggle for the fulfillment of our constitutional democracy, I honour you today, believing that President Abraham Lincoln's most cited lines in his Gettysburg address of November 19, 1863, also apply to you: "that these dead shall not have died in vain – that this nation, under God, shall have a new birth of freedom and that government of the people, by the people, for the people, shall not perish from the earth." Amen.
Please, I cannot do it without you. come on board and let's join hands to make a change. I need your support to be able to give you the leadership you deserve. Together we will can make the change we seek. TRUST ME, I WILL NOT LET YOU DOWN.
God Bless you and may God bless the good people of the Federal Republic of Nigeria.
My name is Alex Ehimhantie Aidaghese, and I endorse this message.