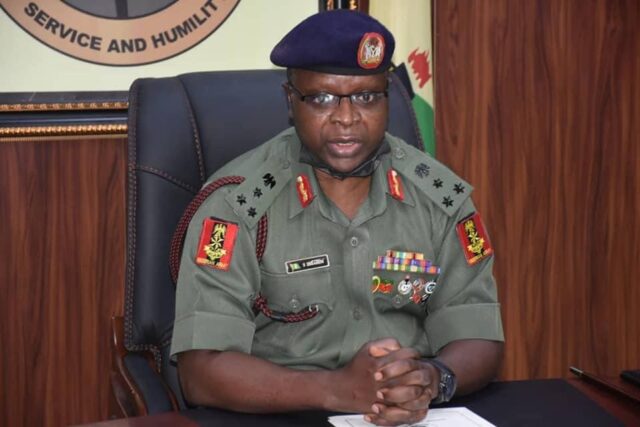 Corps Members have been advised to avoid risky adventures such as unauthorised journeys, night partying and other types of misconduct as they proceed to their place of primary assignments.
NYSC Director-General, Brigadier General Shuaibu Ibrahim, who stated this today in a nationwide virtual address to Corps Members and Camp participants also emphasised that there is nothing like two weeks leave for Corps Members after leaving the Orientation Camp.
He however advised them to utilise the lessons learnt during the three weeks of Orientation Course to contribute their quota to national development and also add value to themselves.
The DG in particular warned the Corps Members to be security conscious and avoid any act that can put their lives at risk in their respective places of primary assignment and host communities.
"I want to warn you that there is nothing like two weeks leave after Orientation Course. Settle down in your places of primary assignments.
As you leave the camp, you must be security conscious, don't travel at night and don't endanger your safety.
Shun cybercrimes, drugs, cultism and don't let your actions today haunt you tomorrow", he said.
He advised them to continue with the post-camp training of the NYSC Skill Acquisition and Entrepreneurship Development programme with their trainers in order to be self empowered, instead of seeking for the unavailable salary jobs.
Ibrahim added that the Scheme is advocating with the Federal Government for the establishment of NYSC Trust Fund (NYSCTF) that would make start-up capital available to every Corps Member as they exit service, which would enable them establish their businesses in line with the skills they acquired through SAED.
The DG also informed them that the Scheme had partnered relevant institutions like the Central Bank of Nigeria (CBN), Bank of Industry (BOI), Access Bank, Unity Bank among others to provide soft loans for Corps Members with good business proposals to establish their vocational businesses.
He advised the Corps Members to study the NYSC Act, NYSC Bye-laws and adhere strictly to the provisions, adding that every infraction would attract appropriate sanction.
The DG urged them to use the Social Media wisely to promote the unity of the country, and not to spread rumour.
Speaking further, he admonished the Corps Members to emulate their predecessors, who during the ourtbreak of COVID-19 pandemic offered selfless services by producing sanitisers, face masks, pedal operated water and sanitiser dispensers, free online extra- mural classes, among others, to cushion the effects of the pandemic and lockdown on members of the public.
He urged them to feel the pulse of their host communities and intiate laudable projects that would ameliorate their suffering, improve their standard of living and also give them a new lease of life.
General lbrahim also warned that presentation of fake medical papers for redeployment attracts sanctions.
He said posting, redeployment and other services rendered by the NYSC attracts no fee, adding that anyone caught offering bribe would be sanctioned appropriately with the taker.
He appealed to the Corps Members to embrace the Federal Government's gesture of free COVID-19 vaccine and be vaccinated in order to protect themselves.
In a vote of thanks on behalf of her colleagues nationwide, the Kebbi State Corps Camp Director, Bankole Shukurat Abiodun KB/21C/0304 appreciated the DG for his purposeful and coordinated leadership style of administration which has made the Scheme more relevant.
She said the NYSC over the years has been inculcating the spirit of teamwork, nation building and self- reliance among the Nigerian youths.
She disclosed that the knowledge and skills acquired during the three- week Orientation Course would be effectively used to become self reliant and job creators.
"The Orientation Course has afforded us the opportunity to learn leadership skills, para-military drills, security tips, martial arts, entrepreneurship skills, all geared towards making us responsible future leaders.
We promise to be law-abiding and good ambassadors of the NYSC and the nation at large, and we shall justify the confidence reposed in us", she said.